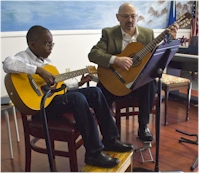 Private Guitar Lessons in Las Vegas
I offer private lessons at the price of group lessons.
Parents are always welcome during lessons.
Comfortable waiting area.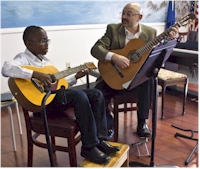 I work with students and parents to create a team-approach to their child's success.
My students learn:
Advanced students study all these subjects more formally.

Back to the Top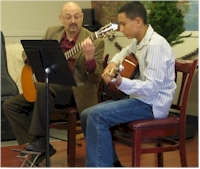 I encourage all my students to:
Learn different styles of music (Classical, Pop, Rock, and Jazz...)

Bring music of their own choice/interest to their lessons.

Stick to a structured approach to learning music and their instrument.

Perform in regular recitals.

Back to the Top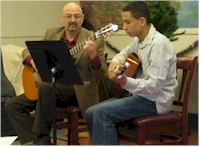 My students must:
Express a desire to learn music and to play the guitar. It will be expected that they will attend their lessons with a positive receptive attitude toward learning.

Agree to practice regularly, (eventually) for the length of their lesson time.

Attend their regularly scheduled lessons as often as possible.

Listen attentively and carefully to my instruction during lessons.

Show the same respect for me as I show them.

Back to the Top